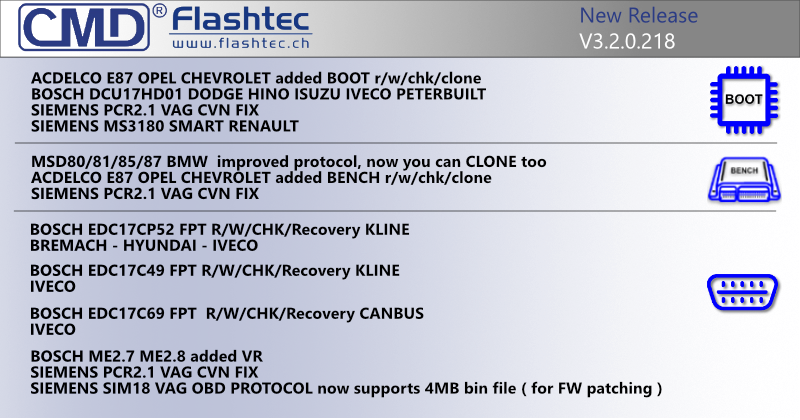 OBD:
SIEMENS SIM18 VAG OBD PROTOCOL



This option is available for MASTER only.
Mark this option in order to save a binary file of 4MB size usually used for patching the firmware.
If this feature is active, the OBD protocol will save the file in this format.
The same thing will happen if you export an OBD SIM18 file coming from your SLAVE.

For SLAVE users everything remains unchanged. If MASTER imports a 4MB binary file, the SLAVE will be able to write it.

This feature is for proficient users only: if you leave it unmarked, everything will work exactly as before.

BOSCH EDC17CP52 FPT R/W/CHK/Recovery KLINE
BREMACH TGR60 3.0 125KW
HYUNDAI HD HD 80 3.0 125KW
IVECO DAILY 3.0 103KW
IVECO DAILY 2.3 107KW
IVECO DAILY 3.0 125KW
IVECO DAILY 3.0 150KW
BOSCH EDC17C49 FPT R/W/CHK/Recovery KLINE
IVECO DAILY 2.3 107KW
IVECO DAILY 2.3 78KW
IVECO DAILY 2.3 93KW
IVECO DAILY 3.0 107KW
IVECO DAILY 3.0 125KW
IVECO DAILY 3.0 150KW
IVECO DAILY 2.3 100KW
IVECO DAILY 2.3 110KW
IVECO DAILY 2.3 85KW
IVECO DAILY 2.3 93KW
IVECO DAILY 3.0 110KW
IVECO DAILY 3.0 118KW
IVECO DAILY 3.0 132KW
IVECO DAILY 3.0 150KW
IVECO DAILY 2.3 100KW
IVECO DAILY 2.3 115KW

BOSCH EDC17C69 FPT R/W/CHK/Recovery CANBUS
IVECO DAILY 2.3 100KW
IVECO DAILY 2.3 110KW
IVECO DAILY 2.3 85KW
BOSCH ME2.7 ME2.8 added VR
SIEMENS PCR2.1 VAG CVN FIX
BENCH:
MSD80/81/85/87 BMW improved protocol, now you can CLONE too
ACDELCO E87 OPEL CHEVROLET added BENCH r/w/chk/clone
SIEMENS PCR2.1 VAG CVN FIX
BOOT:
ACDELCO E87 OPEL CHEVROLET added BOOT r/w/chk/clone
BOSCH DCU17HD01 DODGE HINO ISUZU IVECO PETERBUILT
SIEMENS PCR2.1 VAG CVN FIX
SIEMENS MS3180 SMART RENAULT